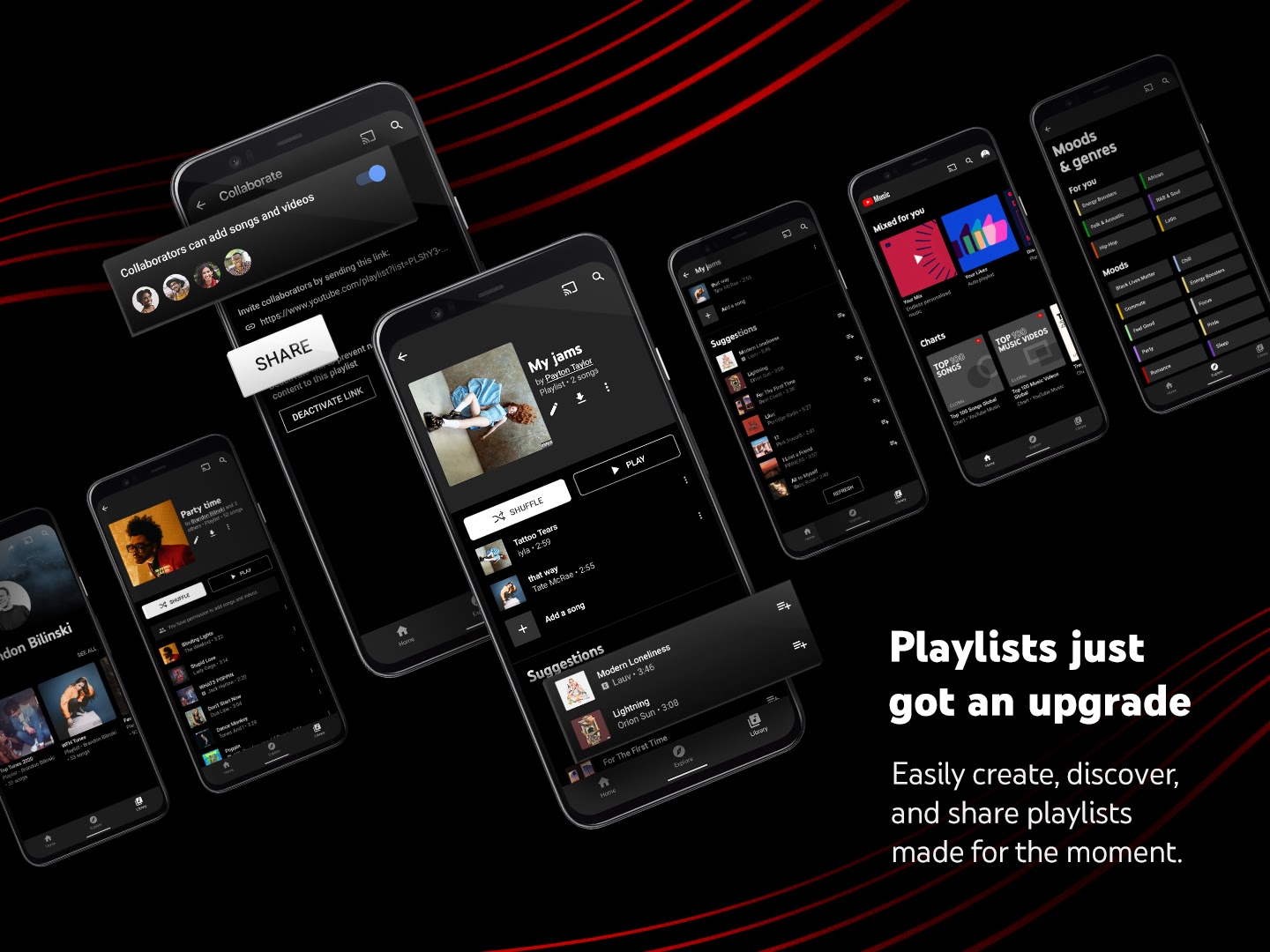 Expand your playlist experience on YouTube Music
Sep 09, 2020 – minute read
5 recently-launched improvements to playlists
There's nothing like the perfect playlist! Playlists are where we discover new music, create personal libraries of our most cherished songs, and share favorites with our friends. Every song captures a mood or moment in time, providing the perfect soundtrack to your everyday life. We understand the importance of this experience and we've been working hard to enhance the ways you engage with playlists on YouTube Music.
Whether you're new to YouTube Music, a seasoned playlist-maker, or a music discovery veteran, we're excited to share some of the newest ways to embrace and make the most of playlists on YouTube Music:

Creating your own playlists? Try our new product features
Assistive playlists
Sometimes you have a great playlist idea in mind, but don't know what songs to add. With the new assistive playlist feature, we will suggest relevant songs based on signals such as playlist name, existing songs in the playlist, and user listening history. You will see up to seven  suggestions when editing a playlist. If you want additional suggestions, you can hit the Refresh button to see more. Whether your playlist has a few tracks or even just a name, we've got you covered.

Collaborative playlists
The only thing better than building a playlist is building one with friends, so we've added a collaborative feature that allows you to create and share playlists with other YouTube Music users. Similar to the collaboration experience on YouTube, all collaborators on a playlist can easily share, sort, add to and edit the playlist. Adding collaborators to your playlist is easy:
Tap the pencil icon to Edit playlist

Select Collaborate

Select Collaborators can add songs and videos

Invite collaborators to your playlist by sharing the link

Curious about what playlists your friends and fellow YouTube Music users have created? Take a look at profile page playlists
If you're looking for inspiration from other music fans with similar taste, you're in luck! Now you can easily browse other listeners' public music playlists and uploaded music videos from their profile page on YouTube Music. This allows you to further browse collections from people whose musical taste you like and want to hear more from. Finding a user's profile page is simple – just click on the playlist creator's username on the playlist page.


Don't feel like making your own playlist? We've got a few personalized playlists mixed just for you
The Mixed for You section in the YouTube Music home feed provides you with amazing playlists  that we created with only you in mind. Based on your listening history, these playlists not only include official audio tracks, but also deep cuts and remixes of your favorite songs. The Mixed for you shelf includes:
Discover mix: Features new artists or songs that we think you'll love and updated weekly. Expect to find your next favorite artist on this playlist.

New release mix: The most recent releases from your favorite artists and other similar artists.

Your mix: Continuously updated, Your Mix is the fastest way to start listening to your favorite music, with a few fun recommendations based on your listening habits. 

Liked songs: If you click like on a song, we'll add to this playlist where you can find all of your favorite songs.

Have a mood or genre in mind? We've got programmed Mood & Genre playlists for that 
In the Explore tab, you'll find thousands of programmed playlists to match nearly any mood. From Chill to Focus, our programmed playlists pull in music from across YouTube's expansive catalog to give you the right mood for the moment.
We also offer specially branded genre playlists that feature some of your favorite artists across YouTube.
Get started with some of our latest and greatest genre playlists:
If you don't already have YouTube Music, download the YouTube Music app in the Play Store or App Store.
Happy listening, playlist-creating and sharing!