Building a Next Generation Live Shopping Experience
By The YouTube Team
Nov.15.2021
As we kick off the YouTube Holiday Stream & Shop, we're bringing you behind the scenes of how we're working to build an organic live shopping experience on YouTube.
As we kick off the YouTube Holiday Stream & Shop, we're bringing you behind the scenes of how we're working to build an organic live shopping experience on YouTube.
Editor's note from Neal Mohan, YouTube Chief Product Officer: As the shift to e-commerce continues, video will play an increasingly important role. Consumers want the convenience of researching and reviewing products online at home, but with the trusted guidance of an in-store experience. That's where YouTube's creators come in. They've committed considerable time and effort into building authentic connections with fans, and as a result, deliver trusted brand and product recommendations to their audience. In this installment of our Innovation series, our shopping team discusses how we're integrating live shopping directly into YouTube.
Starting today, YouTube is launching a new way for you to connect with your favorite creators. This week, the YouTube Holiday Stream and Shop will feature creators including The Merrell Twins, Simply Nailogical, Donut Media, Gordon Ramsay, Patrick Starrr, Jackie Aina, Manny MUA, and MrBeast hosting shoppable livestreams — featuring exclusive access to new products, exciting giveaways, exclusive discounts, and more. We're also introducing YouTube.com/Shopping as a temporary destination for these livestreams.
We sat down with our shopping team to discuss some of the considerations for building live shopping and what viewers can expect.
Q: Why did YouTube decide to jump into live shopping?
Wendy Yang, Product Designer, YouTube Shopping: Live shopping is an area we're really excited about and is a huge opportunity. The exciting thing about live shopping, and shopping generally, is that we're already seeing it happen on YouTube — with creators revealing a product line, dropping new merch, or discussing their latest shopping haul. People want to shop on YouTube and, according to a study we ran in partnership with Publicis and TalkShoppe, 89% of viewers agree that YouTube creators give recommendations they can trust. We can make it easier to shop by integrating it directly into YouTube, removing steps in this process, and making the entire shopping experience fun and interactive for our users.
Q: What are the challenges with building a live shopping experience on YouTube?

Lax Poojary, Product Manager, YouTube Shopping: When we set out to build a live shopping experience on YouTube, we wanted to let viewers discover new and relevant products through the guidance of their trusted creators. We wanted to build features that allow for interactive and immersive exchanges between viewers and creators, so that the buying experience is engaging and fun. But we also needed the experience to allow for shopping while making sure that the livestream is uninterrupted.
Wendy: We built the shopping features so that you can easily learn about products in the video or discover new products that you might love. In our research, we found that 87% of people say they get the highest quality information about products when shopping or browsing on YouTube. If you want to buy, you can make purchases using onsite check out or at retailers' sites. That means the video stream is uninterrupted, so that you never miss a moment.

Q: What are some of the features you're most excited about?
Lax: We want to bring you closer to your favorite creators and make these livestreams interactive between creators and fans. Creators can offer their audience live product drops, exclusive discounts, and even poll fans during their shopping livestreams to interact with and get feedback from their fans.
For example, you can imagine a creator polling their audience on what product they want to see next in the livestream or getting real time feedback on designs their audience likes best. We are working on an exciting roadmap that brings together entertainment and shopping in one place.
Q: What goes into hosting a shoppable livestream?
Lax: The team has been working really hard on making live shopping a reality for our creators and providing a great viewer experience as well. For the YouTube Holiday Stream and Shop event, our creators are leveraging platforms like Shopify to power their stores, making it easy for their viewers to discover their products, build deeper relationships with their brands, and easily make purchases. Some are using interactive production companies like Stage TEN to take their content to the next level. Once the store is connected to their YouTube channel, creators can tag their favorite products and set up a live shopping stream. Creators can even add a trailer to their upcoming live event watchpage to stimulate users to set reminders.
Our ultimate goal is to build a platform that allows anyone with a mobile device and a product to easily host a live shopping stream, but these early events will tell us a lot about what that looks like.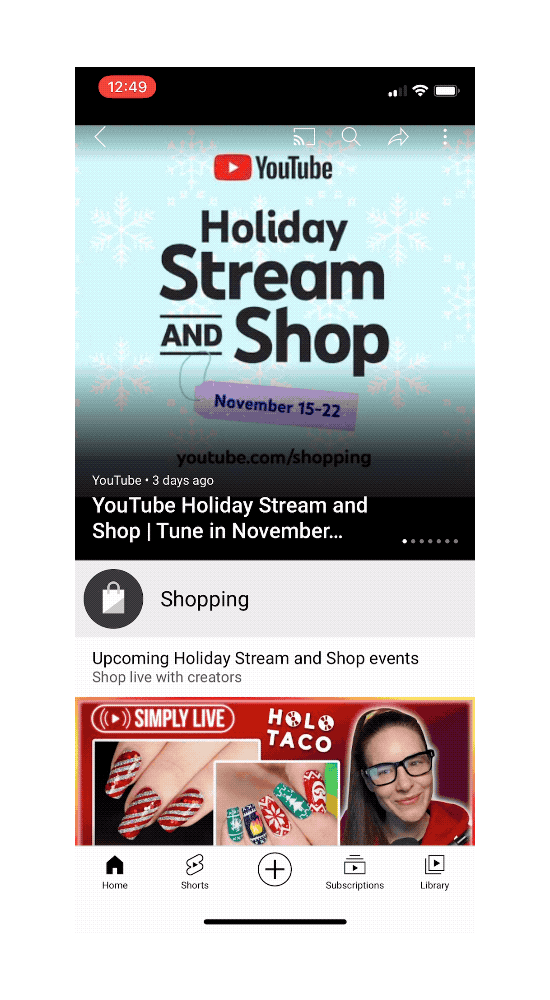 Q: Talk more about YouTube.com/Shopping and what people can find there.
Wendy: We created YouTube.com/Shopping as a temporary destination that allows you to revisit livestreams, discover new ones, and browse products shown in the videos in categories such as makeup, skincare, haircare, and electronics. You can also explore featured gifts from brand and creator stores along with the top trending gift ideas from Google shopping. Through our survey, we found that 75% of shoppers agree that YouTube enhances the traditional shopping journey by delivering unexpected inspiration. At YouTube.com/Shopping, you can browse trailers to upcoming shopping livestreams and set notifications for any livestreams that strike your interest.
Q: What do you hope to learn from the Stream and Shop events?
Lax: Our week-long YouTube Holiday Stream & Shop event introduces a new way of shopping on YouTube that allows you to discover, consider, and buy the products recommended by your favorite creators. This event is going to tell us a lot about live shopping on YouTube and help us understand what users most want to see in shoppable streams and what features creators and brands find most useful.
Wendy: Heading into 2022, YouTube will continue building and investing in shopping, including features for video on demand and personalized shopping. We'll continue learning through these events and experimenting with new formats. In fact, on November 17, we will premiere a new shoppable film featuring products from Black-owned businesses that you can purchase. Our goal is to create a fun and compelling shopping experience for our viewers that addresses the growing demand for social e-commerce while strengthening the unique relationship YouTube creators have with their fans.
Visit YouTube.com/Shopping to discover our shoppable live streams — we can't wait to share them with you!