Work Diaries: Design Lead behind the look-and-feel of Brandcast 2021
By Eavan Wallner
Designer
Apr.27.2021

Eavan Wallner is a designer on the Events + Experiences team, leading the design of this year's Brandcast — YouTube's yearly advertiser event, traditionally held at Radio Music City hall, but coming to you virtually since 2020.
Monday
8:30 a.m. — Hello, new week! My only reason to wake up on Monday mornings is the vanilla scone from my favorite neighborhood cafe. 


9:30 a.m. – I sit outside the cafe with my WFH assistant (a goldendoodle named Nola), dipping my scone in coffee and responding to emails. Most of them come from producers managing different pieces of Brandcast. My role as design lead is fun because it touches everything: brand identity, invitations, website, motion graphics, film sets, and physical kits. I answer emails about backdrop colors for the set, typography direction for the animation team and photo treatment for our event marketing look & feel.

3:00 p.m. – Our executive producer kicks off the weekly pre-production sync with our film agency. For 60 minutes, we review the latest scripts, film treatments, and production to-dos as a full group. Prior to the pandemic, the projects I worked on were primarily physical events and spaces. With the world stuck at home, our team had to pivot. The result has been pretty amazing: A team of talented event folks are now creating world class content and digital experiences. And I've learned a ton about film and motion graphics along the way. Did you know that a shot that shows a person from the knees up is called a cowboy shot? Or that sets with layers + depth inherently look better on film? Or that there are about a hundred different ways to animate the word "hello"? Neither did I — until this year.
Today's highlight: Honestly, it was the scone.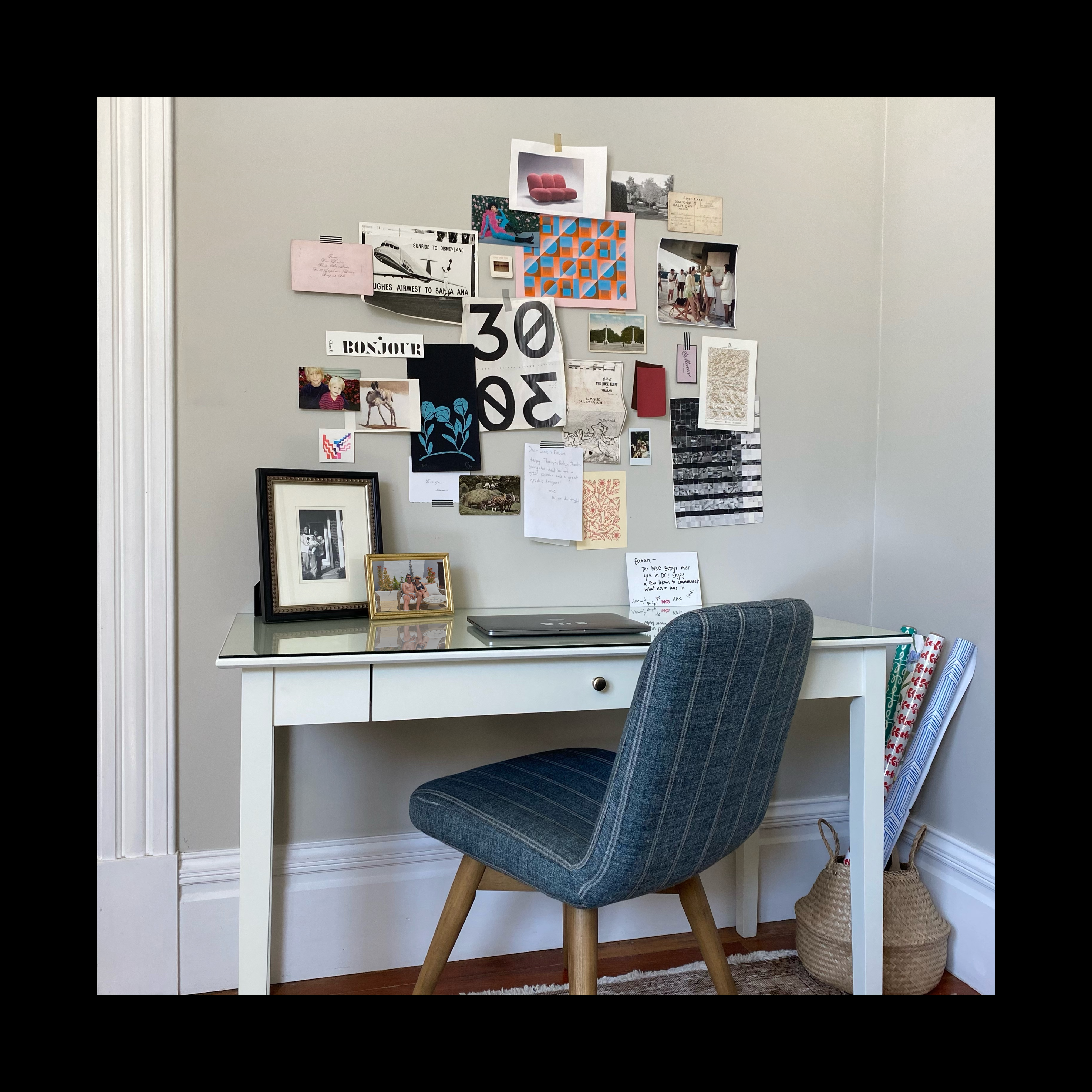 Tuesday
8:00 a.m. – 30 minutes of yoga. It's my favorite morning ritual these days, and I try to do it as often as I can.
9:00 a.m – Our Brandcast shoot is right around the corner, and today I'm attending a day-long film rehearsal. Design-directing a virtual shoot via QTake (remote viewing software) is a lot like standing over your friend's shoulder while they play the Sims and not being able to touch the mouse. Thankfully, we have a small yet amazing crew to help us while I give notes remotely.
While I watch the runthrough, I'm checking to make sure that the shots look their best, are on brand, and ladder up to the story we're trying to tell. I ask the team to adjust set dressings, tweak stage light colors and intensity, and remove the rolling cannon in favor of the giant astronaut. (Brandcast is gonna be lit this year.)
12:00 p.m. – We break for lunch. I convince my roomie  / fiancé, Nick, to make omelettes (his specialty), and try to catch up on emails + pings that I've missed while being in the shoot rehearsal. After an hour of mad-dash responses, I'm back in rehearsal. (As in, I have clicked to another tab on my computer. How I wish I could be there in person!)
Today's highlight: The rehearsal was long (like 11.5 hrs on the same-meeting-link long) but it went really well. I'm thankful for my team, who are based all over the globe at the moment. Some joined from Australia at 3:30am, another stayed on until 2 a.m. her time in Italy!

Wednesday
9:00 a.m. – Google chat ping storm!
"Hey! Do you have the YouTube animated search bar asset we can share with the graphics team?"

"Hey! Did you get a chance to review the Consumer Trends segment edit?"

"Hey! Just checking to see whether you received the copy for the email invite"

"Hey! If they can't do spot gloss on the kit box, are you OK with just black fill?"

"Hey! Here's the brief deck for pre show graphics. Can you fill in with design direction?"
I take two sips of coffee, three spins in my swivel chair, and dive in.
1:00 p.m. – A fun part of the day: reviewing the design for our Brandcast Delivered kit! The package of goodies we send to our attendees to enjoy with the show is one of the only physical elements remaining in our post-covid-era events. I love thinking through how someone will experience this., and this year it's extra fun because I'm overseeing another super talented designer as she executes it. The two of us meet to review the latest work in progress and relish in all the physical details.
3:00 p.m. – I get a quick break from the world of Brandcast, in the form of a meeting about an internal event our team will be hosting soon: a diversity, equity, and inclusion-focused agency day. This will be a chance for us to connect with all of our external creative partners and share all DEI-related updates. Feels nice to look at something totally different for 30 minutes.
6:00 p.m. – Nola and I take a stroll up to Alamo Park to watch the sun dip behind the hills. It's the best park in the city at the best time of day, hands down.
Today's highlight: Reviewing the kit. I love seeing how other designers with totally different perspectives answer a brief.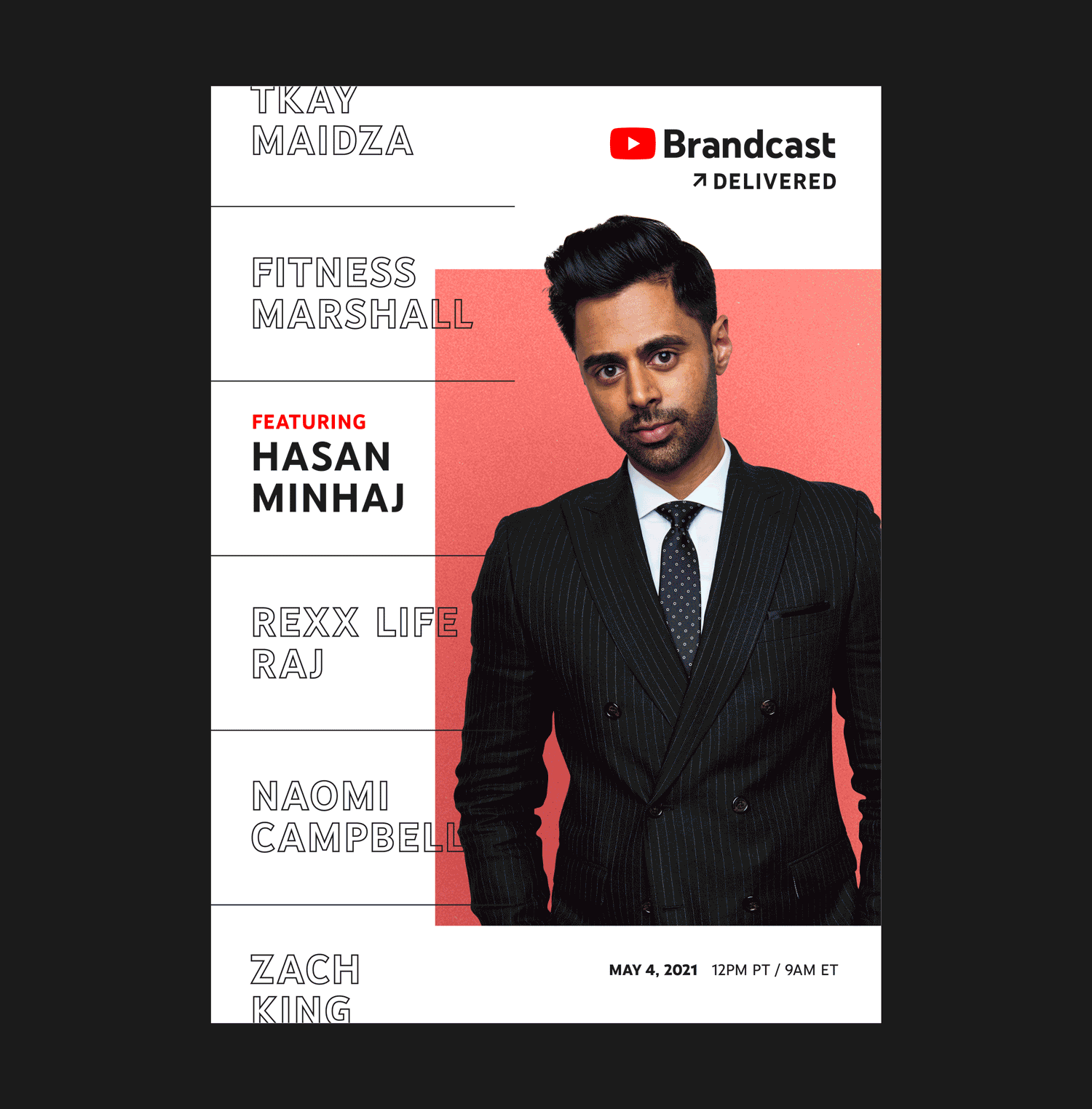 Thursday
9:00 a.m. – A meeting with our interactive agency to review the latest website designs. Contrary to the classic advertising joke, one of my most frequent pieces of feedback is to "please make the logo smaller" (negative space, FTW). I request that change, along with a few others.
10:00 a.m. – I receive an email requesting guidance for global teams on how to scale Brandcast for smaller markets. Since this event is reproduced by teams all over the world with their own clients and marketing priorities, part of my job is helping them apply the brand and creative concepts to create their own versions of Brandcast. I block my afternoon to work on this.
1:00 p.m. – One of my favorite lunch hour past-times is watching Architectural Digest's series, Open Door, on YouTube. Who doesn't want to tour the well-designed homes of famous people? I've seen almost all of them. My favorites are Mark Ronson's (pattern! art! music!) and Dakota Johnson's (so chic, yet so laid-back).
2:00 p.m. – By now I've made good progress on this new addition to the brand guide. When it comes to recreating the Brandcast film look & feel, I've decided it mainly comes down to three things: clean + colorful sets, smooth transitions between segments, and consistent motion graphics. I build out a page for each, showing how they can be achieved on a budget of any size.
Today's highlight: We had a full team meeting today (like the FULL team, not just the Brandcast team) and I got to see the faces of some of my coworkers that I haven't seen in ages. Jokes in the chat, dogs and kids popping on to say "hey." It's the closest we get to be these days. Miss these friends.

Friday 
If you're still reading, WOW. I'm impressed, and also glad you're here because this Friday was truly the best.
12:00 p.m. – Rehearsal with our Brandcast musical talent. An important part of our IRL show has always been a performance by a major artist – and this year we're bringing that back virtually through a streamed performance. I can't tell you who the musician is, but I can say it's someone you'd know, someone incredible, and someone I've personally been a fan of for 15+ years.
As I'm watching them perform one of my favorite songs via the QTake, I have a momentary out-of-body experience. How is this my job? Never did I think I'd get to work on a show like this with so many incredible YouTube creators (not just our musical act, but also our Brandcast host and the rest of our talent), learn from seasoned directors, artists, writers and producers, or watch a behind-the-scenes performance by one of my favorite musicians. This dreamy moment makes the late nights and long meetings so worth it.
I screen record the rehearsal session and watch it 3 more times afterwards — just to confirm it happened, and to relish the experience of watching live music after so many months in quarantine.
Today's highlight: The rehearsal! And also, homemade pizza for dinner because #friday.