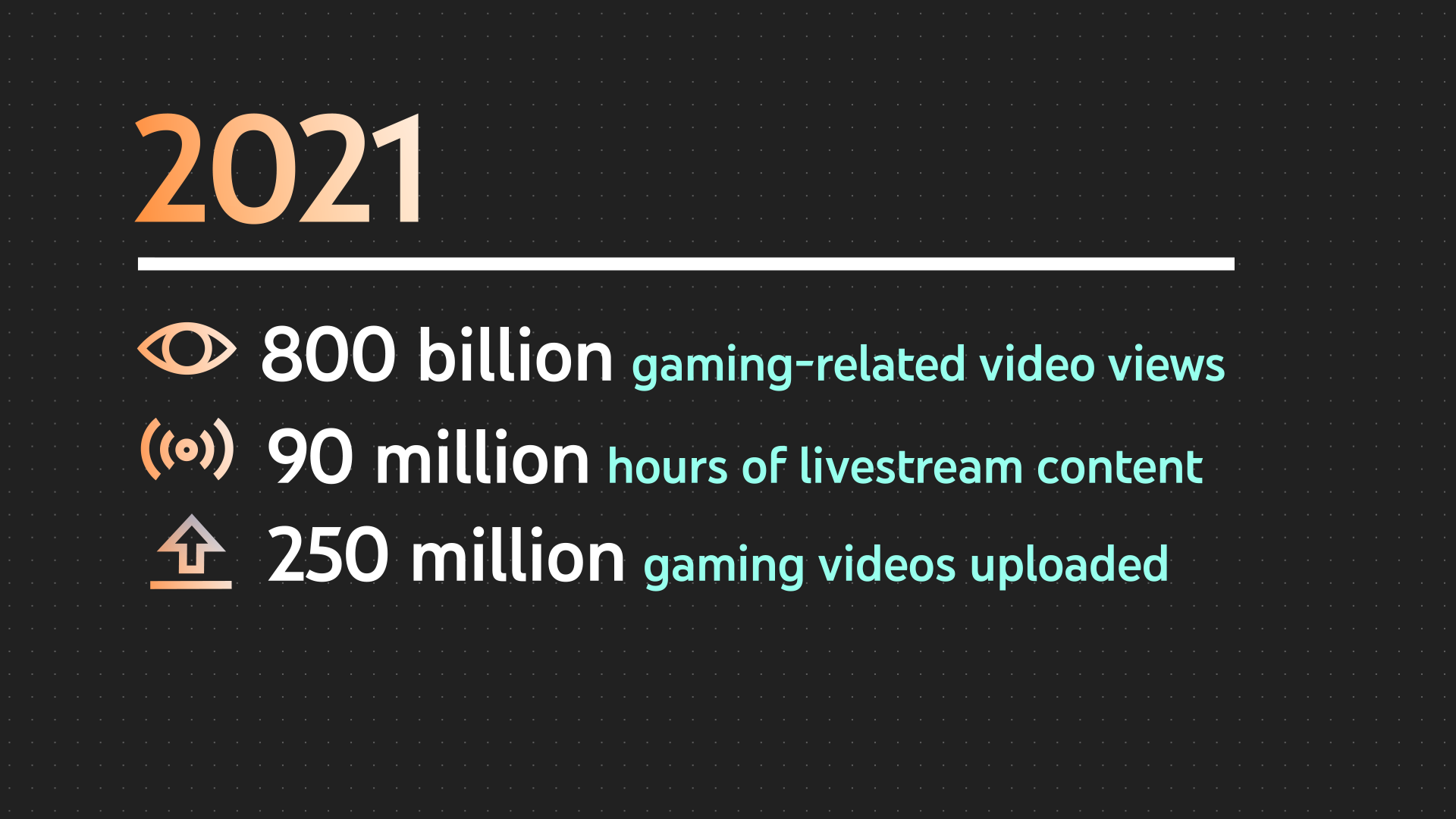 Upping our gaming
Oct 29, 2021 – minute read
Gaming on YouTube is evolving, and here's how we're evolving, too.
Editor's note from Neal Mohan, YouTube Chief Product Officer: Today, gaming content has evolved dramatically to become an essential part of the backbone of what we know YouTube to be: a home for dynamic creators whose engaging content brings together communities from around the world. According to a survey from earlier this year, playing video games is Gen Z's favorite form of entertainment. And far from being a niche interest, it's become the mainstream. In this installment of our Innovation series, YouTube Global Head of Gaming Ryan Wyatt shares how Gaming on the platform is evolving and what direction we plan to take it to meet its increasing popularity.
It's hard to believe how modest YouTube Gaming's beginnings were. It wasn't that long ago that the gaming video on YouTube was simply a Dazzle capture card sniper montage or a desktop-captured World of Warcraft video. But today, gaming stands at the forefront of YouTube's growth, with more people creating gaming content and building businesses than ever before. For the first half of the 2021, YouTube saw over 800 billion gaming-related views, over 90 million hours live streamed, and over 250 million uploads.
As gaming creators expand, so do their needs, and we're dedicated to developing with them. Gaming creators are multi-dimensional content creators, and they're building powerhouse brands on YouTube by leveraging Live Streaming, VOD and Shorts as multiple video formats to tell their stories. They're also early product adopters utilizing different monetization features in more ways than ever — from ad revenue to paid digital goods like Super Thanks that allow creators to deepen connections with their fans and viewers.

How we're listening to gaming creators

YouTube distinguishes itself by having Live, VOD, and Shorts all in one place, but there are other things we do to keep creators at the center of our business. To start, they inspire some of our best ideas.
We regularly host creator product feedback sessions so creators can directly dialogue with our Product teams. This two-way collaboration enables YouTube to share designs, gather feedback, and better understand creator needs – in fact, these sessions have shaped new features like Membership Milestone Chats, Live Control Room, and Super Thanks. This partnership also delivered helpful insights for making live streaming more engaging, from OBS integration to Live Chat Polling.
Valkyrae, a top female global streamer and the Game Awards Content Creator of the Year for 2020, has been one of these pivotal voices speaking on behalf of creator needs. When she came over to YouTube to live stream exclusively on the platform, she stressed the importance of having a Subscriber-only Chat feature to better the Live Chat experience for both her and her fans. Since we launched it earlier this year, Valkyrae now uses it on almost every stream to help manage her live chat experience with viewers.
Other creator feedback helped develop Clips, a feature that lets viewers share the best moments from their favorite creators' live streams. We worked closely with CouRage and other YouTube creators to make sure the product worked in a way that would feel helpful for the entire gaming community. And creators are just as important after a product launches, as their feedback from using the product regularly helps us better understand how we can improve it further.
How we're investing in creator success
Last year, YouTube launched YouTube Shorts in beta. And earlier this year, we introduced our $100 million Shorts Fund to support short-form content creation across all genres. Gaming short-form content in particular has found incredible success on YouTube.
Jake Fellman, a digital animator, got his start on YouTube this year by uploading his first video on YouTube Shorts. He found early success with witty Among Us animations and eventually caught his stride with original Minecraft Shorts. Jake has now reached more than 7.5 million followers on his YouTube channel and his Shorts have surpassed 440 million views in the month of September alone.
The vast amount of VOD gaming content on YouTube offers an unparalleled opportunity to repurpose it for engaging short-form content. Take a traditionally longer-form Gaming creator like Australian Fortnite player Lachlan. He's also created a dedicated Shorts channel to turn his stream and VOD highlights into snappy Shorts, and in September alone, hit more than 30 million views.
There's no doubt in my mind that we're just at the beginning of what gaming creators can do with Shorts and we want to make it even easier to create them. We're exploring ways that Clips can be easily turned into Shorts, and we're also looking to bring over some of the most popular gaming tools to Shorts - we'll keep you posted on progress! And most importantly, with the $100 million Shorts Fund as the first step, we're focused on developing a monetization program that supports the next generation of creators with Shorts.
YouTube's investment in short-form content brings an even richer creator ecosystem to the platform, and we're in turn investing in creators that can share content and build communities across even more audiences. To support this effort, we're continuing to invest in Live and creating the best Live experience for both creators and viewers. In September, we announced that gamers DrLupo and TimTheTatMan were moving to YouTube to live stream exclusively, rounding out the already robust VOD content on their channels. Tim is already off to a strong start, with over 21,000 channel members of the "Tatman Army" and 118,000 peak concurrent viewers in his first month on the platform.
But it's not just creators who produce incredible Live content on YouTube. YouTube is an important home for game publishers and many of the world's biggest esports. And this content takes on a different level of impact when it focuses on changing the lives of those in need. Back in June of this year, we hosted Minecraft Championship Pride 2021. And since that month, this event has had 15-million-plus views of livestreams and VOD, and it raised over $340,000 for the Trevor Project.
But we know there's still a lot both creators and viewers want from the Live experience, and we're pushing forward on a slew of new features. Last December, we announced three new features for Live Premieres: Live Redirect, Trailers, and custom Countdown themes. These tools help build energy and excitement for an upcoming Premiere while also allowing for real-time community engagement for gaming creators and their fans.
How we're building for the future

As much as we've accomplished, we're just getting started. We've heard from you all that you want better discoverability of live content, you want more ways to monetize, and you want to see improved chat features. We're currently working on upcoming products and features to meet these demands and others–including Gifted Memberships, as well as Live Redirect for Gaming, which will let you seamlessly send your viewers directly to another livestream once yours ends.
We're also exploring other perks for YouTube Gamers through our subscription services. Our recent partnership with the Discord app gives Premium members access to Discord Nitro for free, and Discord Nitro users get free access to YouTube Premium. Efforts like this are meant to help gamers further expand their community and likewise help viewers discover other creators. And we're nowhere near done with improving live streaming on the platform for creators and viewers alike.
YouTube Gaming recognizes that content creators will be more important than ever to game developers over the next 5 years. It's no longer about bringing games to creators when they want marketing support on launch. They'll be there as true partners—influencing creative direction, functionality, and formats. And we're excited to continue collaborating deeply with both creators and publishers as this partnership deepens
At YouTube, we're incredibly excited to see how the next chapter of Gaming unfolds. But one thing I'm confident in saying is that it won't be long before people look back and say, "Once upon a time, gaming creators on YouTube only had 10 ways to monetize, and VOD was the primary content available." Time moves fast these days, and the success of gaming on YouTube will only be matched by the time, resources, and investment we put into it. We've got a lot coming, so hold on, hang tight with us, and stay tuned for more updates.