Signing on with British Sign Language: 3 trends in this creator community
By Joshua Sostrin, Abdu Hussein and Nicolas Szmidt
Editor + Culture & Trends Managers
Dec.10.2020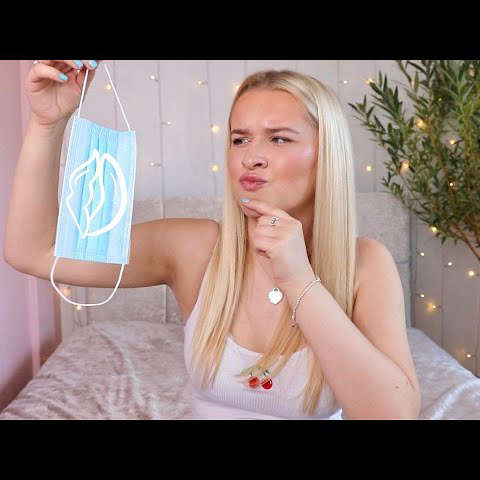 With people being required to wear masks in public, BSL creators worked to circumvent the dilemma of obstructed faces.
The video begins with pulsing music as a lone animated woman, filmed in black and white against a blank background, gives voice to her exasperation with the injustices that have been inflicted upon members of the Black community. She rifles off a series of names of victims of senseless deaths that occurred during everyday activities that most us take for granted. 
"Black people are so tired…We can't go jogging…We can't sleep…We can't go to church..." 
She gestures emotionally, seamlessly blending the simple joys of life with the sudden dislocation of loss before culminating with "We can't live." Her words resonate powerfully, but not a single one is heard, for they are delivered by Vilma Jackson, a deaf performance artist who communicates in British Sign Language (BSL). Throughout her poignant video, she signs a litany of victims killed by police in both the U.S. and the U.K., a defiant protest that is as loud and forceful as any that have been spoken.
Jackson's video is reflective of YouTube's dynamic BSL community. It's estimated there are 151,000 users of BSL in the U.K., and 87,000 of these users are deaf. Differing significantly from American Sign Language (ASL), BSL also has dialect variances within different regions in the United Kingdom. There are three main trends — along with two subsidiary trends — that encompass most of the BSL creator content, which typically features closed caption support to make it accessible to more viewers. 
1. Teaching BSL during the pandemic
The first is the teaching of BSL, which includes the subsidiary trend of facilitating communication throughout the pandemic. (Indeed, average daily views of British Sign Language videos increased over 75% globally from March 15th through July 31st of 2020 when compared with the rest of the year.*)  
The pandemic increased isolation for all communities and imposed new challenges. The BSL community was no exception and responded by imparting relevant information on Covid-19 and addressing other pressing issues. One such problem is that for many hearing-impaired people in the U.K., lip-reading is their primary mode of understanding non-BSL speakers. With people being required to wear masks in public, BSL creators worked to circumvent the dilemma of obstructed faces. For instance, Commanding Hands offered relevant and simple terms for others to communicate more effectively with hearing-impaired individuals. Deaf creator Charlie Raine also released a series of videos on this matter, including 'How to be a Lipreader Ally (Covid-19)," which featured tips such as wearing a clear face mask or turning captions on for video calls.
2. Sign alongs 
The second key trend in BSL is engagement with pop culture via "sign alongs," with this trend having a subset of engagement with topically relevant social, political and cultural events. One of the most prominent recent examples of sign alongs involved creators Jade and Christian Kilduff of the channel, Sign Along With Us. Jade's younger brother Christian has cerebral palsy and uses BSL to communicate. This past April, the siblings appeared on Britain's Got Talent alongside a choir which sang "This is Me" from The Greatest Showman, while Jade and Christian signed the lyrics in BSL. As of this writing, the video has garnered over 24 million views.
(And leave it to British singer Harry Styles to pique interest in BSL. Last March, the Mail Online reported that Styles took some sign language classes during lockdown. "Now is the perfect time to learn a new skill and try a new hobby or something, right?" he declared.)
3. Documenting lived experiences
The third defining trend in BSL is the documenting of the lived experiences of deaf people. One of the biggest creators in the BSL community who embodies this trend is Jasmine Whipps, a woman in her early 20s who's better known to fans as "Jazzy." She started her channel five years ago to share all the positives of life in the deaf community and enable hearing people to find out more about deaf awareness and sign language. Her channel really took off in June of 2019 when she uploaded the video, "Can Siri Understand My Deaf Voice?." The success of this video helped her channel jump from roughly 15,000 subscribers to 100,000 in less than two months. This went even higher when Jazzy began experimenting with her family to see if they could understand her deaf voice. She even educated her hearing fans, with fellow deaf creator Benny Ngo, what it's like for deaf people to go through a drive thru at McDonalds.  Today, Jazzy's channel boasts over 200,000 subscribers, documenting her daily life, her travel adventures, her personal experiences (even dealing with acne) and all that she is passionate about! 
Grand gestures
YouTube's mission is "To give everyone a voice and show them the world" and we see this play out powerfully through the BSL community. Those with a hearing impairment face unique challenges to stay connected with their surroundings and keep isolation at bay. Through YouTube, creators and users in the small but vibrant BSL community share their knowledge and experiences, building bridges amongst each other and with the greater world as well.
*Source: YouTube data, global, 15 Mar - 31 Jul 2020 vs 1 Jan - 14 Mar 2020. Videos about British Sign Language (BSL).