Major updates to sports on YouTube TV
By Christian Oestlien
Vice President of Product Management, YouTube TV and Connected TV
Sep.03.2020
YouTube TV is launching NFL Network as part of our base plan! We're introducing RedZone in Sports Plus, a new add-on package for sports fans.

YouTube TV is launching NFL Network as part of our base plan! We're introducing RedZone in Sports Plus, a new add-on package for sports fans.
Sports fans have been some of the most passionate YouTube TV members since we launched in 2017. On day one, we made sure we had a wide breadth of sports content to address their biggest requests. Since then, we have continued to partner with leagues and networks to deliver a robust sports experience, like adding Turner Networks, NBA TV, NBA League Pass, and MLB Network. 
Today, we're sharing some big updates to the sports experience on YouTube TV: a major content addition to the base plan, a new add-on package made just for sports fans, and a look at product features that are changing the game when it comes to watching live sports. 
Welcoming NFL Network to YouTube TV
We're thrilled to share that the most highly requested channel from our members is launching on YouTube TV: the NFL Network.NFL Network will be available starting today, as part of the YouTube TV base membership and launches ahead of the NFL 2020 season kickoff on September 10.  
With NFL Network, you'll be able to watch more football than ever with live exclusive games, plus popular shows like NFL Total Access, Good Morning Football, NFL GameDay Morning, and NFL Now. NFL Network also features live wall-to-wall coverage from the league's biggest events, including the Scouting Combine and NFL Draft, plus coverage from the Super Bowl.


NFL RedZone headlines Sports Plus, a new add-on package made especially for sports fans
As we continue to explore how we can build flexible models for YouTube TV users, we're also excited to announce a new add-on package perfect for sports fanatics: Sports Plus.
Sports Plus includes seven sports networks for $10.99 per month: NFL RedZone, Fox College Sports, GolTV, Fox Soccer Plus, MAVTV Motorsports Network, TVG, and Stadium.
For football fans, if you want to go deeper with the NFL season, NFL RedZone has you covered. Hosted by Scott Hanson, NFL RedZone presents whip-around coverage of games across the League and allows fans to catch every touchdown from every game on Sunday afternoons during the regular season starting September 13.

And for soccer fans, you can catch up on all the action from many leagues with Fox Soccer Plus and GolTV. But it doesn't stop there, as fans of college sports, motorsports, and even horse racing will be entertained with Fox College Sports, MAVTV Motorsports Network, TVG and Stadium on Sports Plus. 
Reinventing how you watch live sports with new features
Since we launched YouTube TV, we've not only continued to add content with sports fans in mind, but we've built innovative features that change how you experience live sports, like: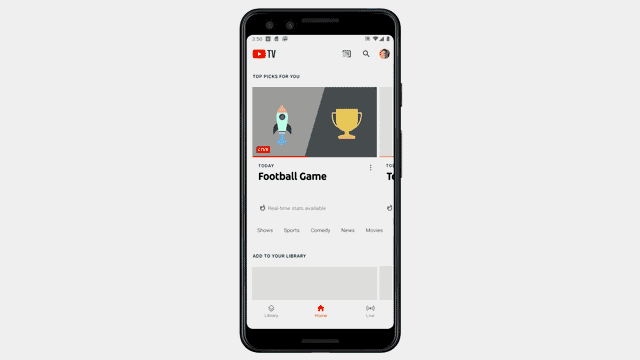 Key plays view: Our key plays view tracks important plays and lets you easily rewatch them. And if you've saved the game to your DVR and are tuning in late, you can catch up on the best stuff with just a tap. You can even filter down to watch moments from your favorite player or play type, from dunks or 3-pointers to interceptions and touchdowns. 
Scores view: Want to see how other games being played are shaping up? Find scores from today's games by tapping "Scores" - there, you can also easily switch back and forth if you're keeping up with a couple teams at once. 
Stats view: You can check out real-time stats from the game you're watching, from total points scored and team stats, to how your favorite player is performing. Stats are linked to the exact moment you're watching, so you never need to worry about spoilers. 

Spoiler mode: And speaking of spoilers, if you're saving a game for later, you can avoid spoilers across all devices. Just search for your team, tap the three dots on the top right, and select "hide all scores." You won't see final scores or previews before you've started watching.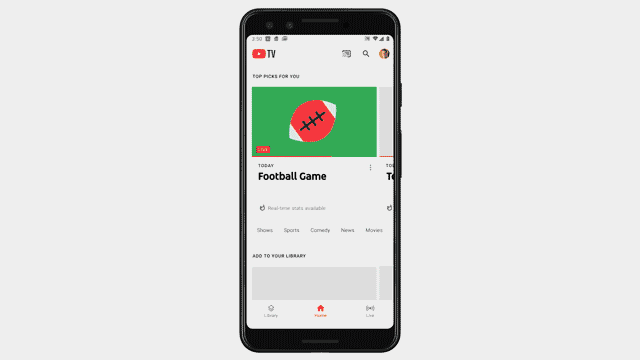 These features are available on phones, tablets, and TVs across the NBA, MLB, NHL, college football and basketball, and starting this season for NFL games.

We're excited to bring more sports to the platform and continue building features that make YouTube TV the best place to watch live TV, how you want it.